Message
With its superior technical expertise, KAMIJIMA has earned its place in the industry as one of the most trusted while holding the door open to the future of heat treatment.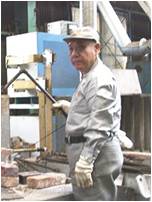 Under the leadership of seasoned professionals, including two Contemporary Master Craftsmen who are both recipients of the Japanese Minister of Health, Labor and Welfare Prize and eight advanced metal heat treatment experts, KAMIJIMA HEAT TREATMENT CO., LTD. "provides high-performance, high-quality products to the high acclaim of its clients (a principle of ISO 9001)" as a customer-centric heat treatment factory.
Our main operations are quenching and tempering of high-speed and die steels using salt bath and vacuum furnaces, solution heat treatments and aging treatments of stainless steels and other materials, cryogenic treatments, surface modification treatments including TiN/TiCN coating, WPC (Wide Peening and Cleaning) treatment, gas nitrocarburizing, steam treatment and other methods, and subsequent duplex heat treatments and FW friction welding.
We are Japan's first company to obtain JIS certification for quenching and tempering. As a company specializing in heat treatment, we also hold AS 9100 and ISO 14001 certification. 
If you have any problems related to metal heat treatment, surface modification treatment or FW friction welding of steels, please feel free to contact us.
Business Area
1. Metal heat treatments
Quenching and tempering of high-speed steels
Quenching and tempering of die and martensite steels
Quenching and tempering of spring steels, bearing steels, structural steels, carbon tool steels and alloy tool steels
Solution heat treatment of austenitic stainless steels
Aging treatment of age-hardening steels
Sub-zero treatment, cryogenic treatment
2. Metal surface modification treatments
TiN/TiCN coating using the ion plating process
WPC treatment
Gas nitrocarburizing, steam treatment
Duplex heat treatment
3. FW friction welding
FW friction welding of tool materials and machine parts